GDPR and Executive Search
What our clients say
"As soon as I learned of GatedTalent, I knew it would be a tool that would add immediate value! With pre-written, compliant templates, I was ready to send and track batches of consent requests and legitimate interest privacy notes to people in our database within a couple of hours. GatedTalent has allowed me to manage the legitimising of my data without even leaving our FileFinder Anywhere CRM. It has made becoming GDPR-compliant infinitely easier, and is a massive time saver!"
Charlotte Robinson, Farrell Associates
Is your CRM GDPR Compliant?
Below, we've summarised some of the key criteria that your CRM needs to support and briefly explained how our unique combination of the FileFinder CRM and GatedTalent will help support your compliancy.
Legal
Requirements
Any supplier who Processes Data must be compliant. You must have a compliant contract.
---
Your data must be stored in a secure manner.
---
Your solution must support data minimisation.
---
You require a legal basis to Process (this is the Consent versus Legitimate Interest discussion).
---
You need to notify candidates.
---
You need to keep records.
---
You need to keep data up to date.
---
You need to make it easy for a candidate to update privacy decisions.
---
You need to manage information requests.
---
You need to manage deletion requests.
FileFinder and GatedTalent
✔ Our contracts have been rewritten and are compliant.
---
✔ All data hosted by us is encrypted and benefits from intrusion detection systems and regular penetration testing.
---
✔ Standard functionality.
---
✔ The "legal basis" is not a systems issue per se; however, your system will need to support your chosen strategy. We support both options.
---
✔ Automated via GatedTalent.
---
✔ Automated via GatedTalent.
---
✔ Automated via GatedTalent.
---
✔ Online privacy dashboard via GatedTalent.
---
✔ Semi-automated via GatedTalent.
---
✔ Semi-automated via GatedTalent.
What our clients say
"Given the upcoming changes to data protection regulations – and our focus on ensuring our candidates and clients the security of their personal data, we trust that we have chosen the most suitable search software provider. GatedTalent brings added value to FileFinder and us, their clients, providing a solution that streamlines the compliance process with GDPR regulations. I strongly recommend FileFinder Anywhere and GatedTalent to any other executive search firm".
Ana Ber, Dr. Pendl & Dr. Piswanger Romania
FileFinder Executive Search Software, a powerful browser-based, and easy to use, combination of database, project management, web research and CRM tools, designed specifically for executive search firms and in-house strategic recruitment teams.

FileFinder is the only executive search management platform to be fully integrated with GatedTalent, the platform connecting executive recruiters with the world's leading executives, populated primarily by invitations from our search firm partners, but with information curated by the executives themselves. Our tight integration allows FileFinder users to search the platform, manage compliancy (with full support for the GDPR concepts of "Consent" and "Legitimate Interest") and receive executive updates in an entirely seamless manner.
Available as a Browser-based, Cloud-hosted App or via a variety of alternative deployment models, search firms and corporate clients have been relying for years on FileFinder technology to better manage the process of executive search. If you choose to implement our FileFinder cloud solution, your data is stored securely. Unlike other vendors, we never cache data on local machines/devices, ensuring you are not risking data breaches via a lost laptop or phone. We became the first specialist vendor to be accredited to
the US / EU Privacy Shield
and are thought leaders in terms of GDPR and data privacy, with our complimentary on-demand webinar recording and white papers accessed worldwide.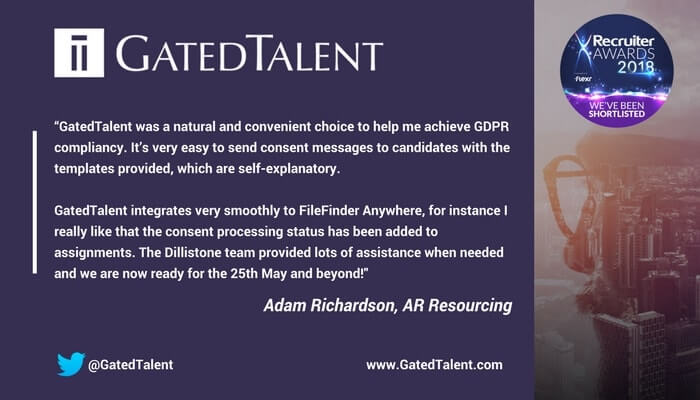 Want to find out how FileFinder and GatedTalent can support your business?Request a callback TODAY