Supporting Executive Recruiters Globally for Over 30 Years
Introduction
FileFinder is a brand of Ikiru People Ltd, a subsidiary of Dillistone Group Plc.
The group is a leading global provider of software and services that enable recruitment agencies and in-house recruiters to better manage their selection process and address the training needs of individuals. Across its brands – which include Voyager Software (recruitment software UK & Australia), Dillistone FileFinder executive search software,
GatedTalent
, the global database of the world's leading executives,
Talentis.Global – the next generation of recruitment software
and also ISV.Online, provider of online pre-employment skills testing and training tools. Dillistone Group serves thousands of clients worldwide.
Our commitment to continuously deliver service excellence, combined with our many years of experience, ensures the very best technology solutions for our clients globally.
Key Facts
More executive search firm clients
Ikiru People works with more than 1,200 Executive Search firm clients in
over 60 countries
.
Growing and investing
We've invested millions in the FileFinder Anywhere suite. That's why we were the first to market with a 100% browser based app with full MS Outlook integration.
Financially stable
Because we are public, you can check all of our numbers out for yourself on the
Stock Exchange website
. We've been around over 30 years, and we expect to be around for at least another 30!
Guaranteed migration path
For as long as a client maintains a support or ASP contract with us, we offer a guaranteed migration path to future releases. No one in the industry has spent as much as we have; no one in the industry has reinvented our platform as often as we have! Our investment ensures you are up to date with the latest technology and ensures your business is fully future proof.
Customer success stories
Visit our testimonials pages to review dozens and dozens of real testimonials from real, named clients to find out why our clients love us!
FileFinder Around the World
FileFinder Executive Search Software is used in more than 60 countries around the world by companies who recognize that competitive advantage is dependent on sourcing the best talent for their clients and having the technology that facilitates that!
At the time of writing, our client base includes installations in the following countries or territories:
Algeria, Argentina, Australia, Austria, Azerbaijan, Bahrain, Barbados, Belgium, Brazil, Bulgaria, Cameroon, Canada, Chile, China, Colombia, Croatia, Czech Republic, Denmark, Finland, France, Germany, Greece, Hong Kong, Hungary, Iceland, India, Iran, Ireland, Italy, Ivory Coast, Japan, Kuwait, Latvia, Lebanon, Lithuania, Luxembourg, Malaysia, Mexico, Monaco, Morocco, Myanmar, The Netherlands, New Zealand, Norway, Oman, Panama, Peru, Poland, Portugal, Qatar, Romania, Russia, Saudi Arabia, Serbia, Singapore, Slovakia, Slovenia, South Africa, South Korea, Spain, Sri Lanka, Sweden, Switzerland, Taiwan, Thailand, Trinidad & Tobago, Turkey, UAE, UK, Ukraine, Uruguay, USA, Vietnam.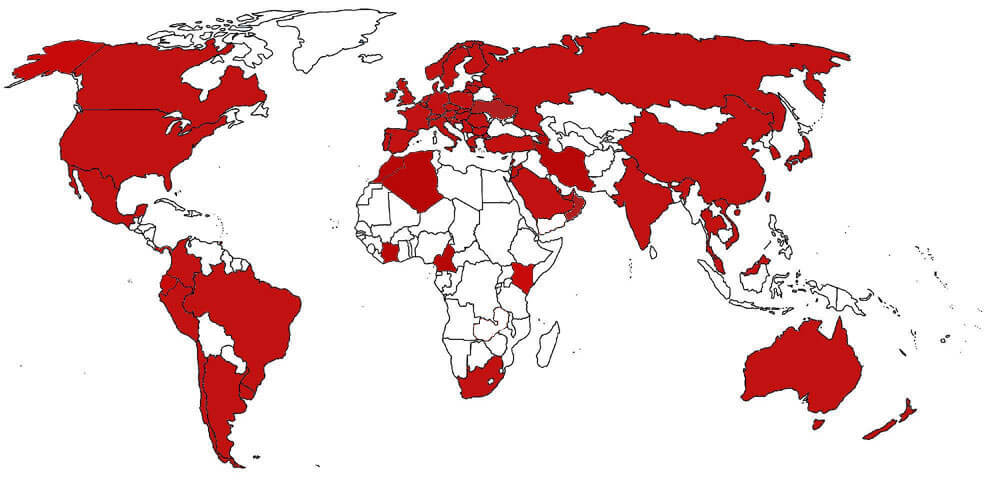 Don't take our word for it Read Client Testimonials