Why Choose
FileFinder Executive Search Software
Executive Search Software – only better!
Our experience working with thousands of executive recruiters around the world tells us that different users have different needs from executive search software.
That's why FileFinder is designed with Executive Researchers, Consultants/Partners and Business Owners in mind. Web Research Zone is an essential tool for Executive Researchers. Customizable search strings in Web Research Zone help the whole team to find the best and relevant candidates for their projects. FileFinder also has multitude of ways to add candidates to assignments from other resources. Consultants and Partners love the ability to work on their search assignments without leaving MS Outlook, access their database anywhere on any device and "cannot live without" the business development functionality in FileFinder. Business owners can monitor performance through an array of KPIs and gain insights into search projects via powerful build-in customizable reports.
Benefits of FileFinder Executive Search Software
Allow your team to work remotely and access their data on any device.
Work on your search assignments and update your database without leaving MS Outlook on PCs, Apple MACs and through a browser.
Leverage the power of the web and social media to quickly and easily source information on people and companies far beyond your internally sourced data.
Manage your search and business development efforts and monitor performance through an array of KPIs and reports.
"Privacy by design" ensures GDPR compliancy, while US Privacy Shield Framework helps keep your data transfers legal.
Save hours of work each week by generating superior client reports
Access millions of senior-level candidates from around the world through integrations with Talentis and GatedTalent
Download FileFinder Brochure
Data Migration
Ikiru People's Data Analysts have a combined 30 years' experience of migrating data to FileFinder
Over the years, we have migrated 100s of clients onto FileFinder – both large and small
Expertise in data migrations from Bullhorn Invenias, Cluen Encore, Profile, Bond Adapt, Salesforce and ACT as well as from spreadsheets, MS Outlook contacts and GatedTalent connections
Optional premium services such as data cleaning and de-duplication also available
Download data migration infosheet
User Adoption, Training Options and Post Implementation Support
Highly skilled trainers, with wealth of experience and knowledge about Executive Search and Interim recruitment processes
A choice of dedicated or shared online training session ideal for new employees or as a refresher training
Post Go-Live Q & A sessions
Dedicated Client Area on our website full of on-demand bite-size training videos
Monthly no-cost training clinics
Access to 24/5 technical and user support via our global offices for out-or-hours support rated excellent on Trustpilot
FileFinder Executive Search software platform comes with full client reporting functionality:
Over 80 reports as standard including:
General, people, company, marketing and management reports
KPI, Pipeline and Business Development reports
A variety of Candidate Status Reports / Client Progress reports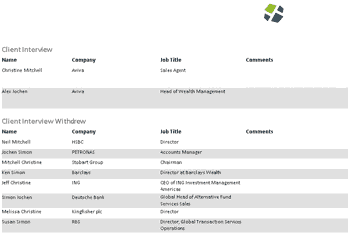 Sample: Candidate Progress Report
A report generator to create your own reports
Easy-to-use report generator which enables you to create reports unique to your needs and company.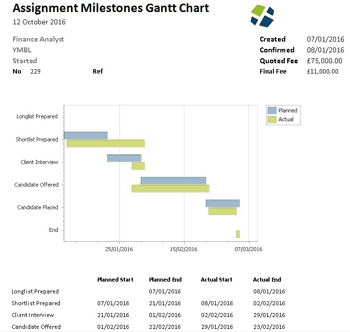 Sample: Assignment Milestones Report
All reports can be exported, emailed and printed immediately
Export any of the 80+ standard reports into Word or Excel for further enhancements
All reports can be immediately used and send to clients, contacts or colleagues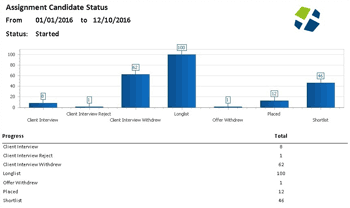 Sample: Candidate Status Report
Cloud Hosting, Resilience & Disaster Recovery
Our clients' data is hosted in 3 Microsoft Azure datacenters: West Europe (WE) in the Netherlands, Southeast Asia (SA) in Singapore and in the US (US Central)
Data is backed up using SQL Azure automated backups. Full backups are created every week, differential backups every 12-24 hours, and transaction log backups every 5 to 10 minutes.
Backup data is stored in geo-redundant storage blobs that are replicated to a paired Azure region.
Disaster Recovery: In the event of a failure in the primary region, data will be restored within the corresponding paired region and our Azure DevOps release pipelines will deploy a new platform via code.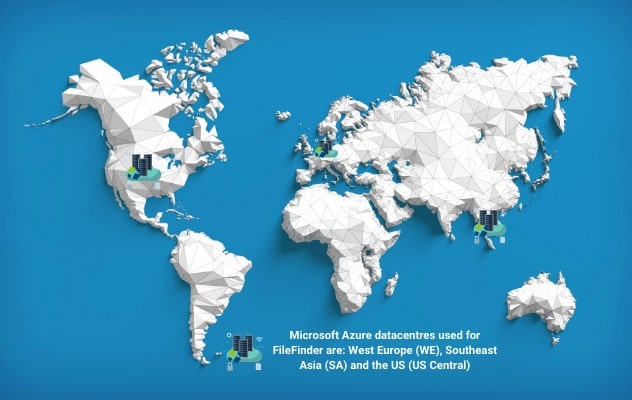 FileFinder Security
FileFinder uses a 2048-bit SSL certificate and 256-bit encryption in transit
SQL Azure TDE (Transparent Data Encryption) ensures all customer databases, backups, and logs are encrypted at rest.
Access is granted to FileFinder by a User ID and Password. The system-wide password complexity requirements, account lockout, forced password resets and password history options are all configurable.
FileFinder has several user security levels that can be assigned to users according to their requirements and the requirements of the company.
Users, roles, and permissions can all be configured to meet the security requirements of your organisation.
We use Time-based One-Time Passcodes (TOTP) for MF.
Download FileFinder Security Factsheet
Candidate Sourcing Made Easier with Talentis Integration!
Talentis brings together artificial intelligence and big data to revolutionize the executive search process.
Talentis is unique. While traditional recruitment software was designed to make it easy to source information from the web and store it in a local database, our platform turns this worldview on its head.
Talentis users search for potential candidates on Google. LinkedIn. Bloomberg. Various other sites. They find a candidate of interest and – with no data entry required – add them to a search. Or make notes. Or add tags — all without leaving the webpage of interest. No record creation. No parsing. No duplicate checking. 90% less data entry. And – rather than creating records that decay over time – the confidence of knowing that users are always accessing the most current information available.
Talentis integrates with FileFinder to ease candidate sourcing – request a demo to learn more!
Service Level Agreement
All technical support calls are dealt in priority order based on their severity
| Priority | Common Example | Response |
| --- | --- | --- |
| Critical (P1) | Multiple users unable to work | 1 hour |
| Serious (P2) | Single user unable to work | 2 hours |
| Moderate (P3) | Single/multiple users with issue on a main business process | 1 day |
| Minor (P4) | Product training question/query | 2 days |
| Outside SLA (P7) | Scheduled upgrade/server move | n/a |
Download the Ikiru People SLA
All this from the supplier you can rely on
FileFinder is a brand of Ikiru People, a subsidiary of Dillistone Group Plc, global leader in the supply of technology solutions and services to recruitment, staffing and executive search businesses, as well as corporate HR teams around the world.
Ikiru People is a company behind some of the best-known brands in the recruitment technology market which include Voyager Infinity Software (recruitment software CRM), FileFinder executive search software, GatedTalent, the global database of the world's leading executives, Talentis.Global – the next generation of recruitment software and also ISV.Online, provider of online pre-employment skills testing and training tools. Dillistone Group serves thousands of clients worldwide.
We are a team of more than 100 people spanning three continents, offering exceptional service and 24/5 support to clients around the globe.
Learn more about Ikiru People