FileFinder Anywhere Integration with GatedTalent
What our clients say
"Since we implemented FileFinder Anywhere, we have become more efficient and we are getting better and better at what we do. Training has been very helpful, and the product is easy to use – we can get new staff up and running with software quickly. Overall, FileFinder has greatly contributed to our Executive Search firm's success – and the integration with GatedTalent not only helps us manage GDPR, but also to capture new executives in our network."
Shawn Coleman, International Recruitment Manager, CIP Global Executive Search
Because an Executive Search firm's database…
…is only as good as the data it contains.
GatedTalent is a global database of executives from more than 100 countries. Populated and maintained by the executives themselves, the pool is highly up-to-date and growing rapidly. FileFinder Anywhere is the only CRM platform to have two-way access to this talent pool.
Update your legacy data – convert "stub records" to fully populated, detailed profiles.
Benefit from access to a fresh pool of Candidate profiles, with thousands of new registrations every month.
Allow executives to share confidential information of the sort you won't find on LinkedIn.
Benefit from free, targeted research support.
Support GDPR compliancy.
Earn credits and connect with NEW executives when you need to.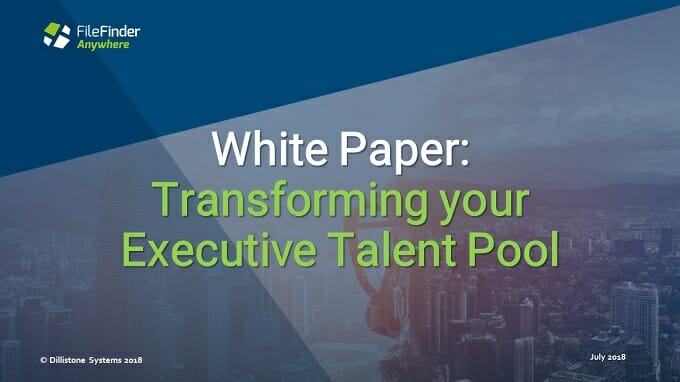 Get our free White Paper
Transforming your Executive Talent Pool
It is often said that 'an executive search firm's database is only as good as the data it holds'. So, why do so many Executive Search firms review technology platforms without considering the core challenge – the value of the data it will store? Putting low-value data in a new container does not change the fact that it remains poor quality data. This White Paper seeks to look at the quality of data stored by Executive Search firms and asks how it might be transformed alongside a platform migration.
GatedTalent "Search & Connect" – Discover how to meet more than 30,000 senior-level Executives
The unprecedented growth in highly-senior new member registrations has led to GatedTalent reaching a significant milestone of more than 30,000 members representing more than 100 nations. Approximately 10% of GatedTalent members are current CEOs – a truly global talent pool, now open to all Executive Recruiters.
Join one of the webinars to learn how the platform works from a recruiter perspective and about its availability to the wider Executive Recruitment community.
Learn more: BOOK YOUR ONLINE DEMO TODAY!