FileFinder Anywhere Integration with GatedTalent
Because an Executive Search firm's database…
…is only as good as the data it contains.
GatedTalent is a global database of executives from more than 90 countries. Populated and maintained by the executives themselves, the pool is highly up-to-date and growing rapidly. FileFinder Anywhere is the only CRM platform to have two-way access to this pool.
Update your legacy data – convert "stub records" to fully populated, detailed profiles.
Benefit from access to a fresh pool of Candidate profiles, with thousands of new registrations every month.
Allow executives to share confidential information of the sort you won't find on LinkedIn.
Benefit from free, targeted research support.
Support GDPR compliancy.
Earn credits and connect with executives when you need to.
What our clients say
"As soon as I learned of GatedTalent, I knew it would be a tool that would add immediate value! With pre-written, compliant templates, I was ready to send and track batches of consent requests and legitimate interest privacy notes to people in our database within a couple of hours. GatedTalent has allowed me to manage the legitimising of my data without even leaving our FileFinder Anywhere CRM. It has made becoming GDPR-compliant infinitely easier, and is a massive time saver! "
Charlotte Robinson, Farrell Associates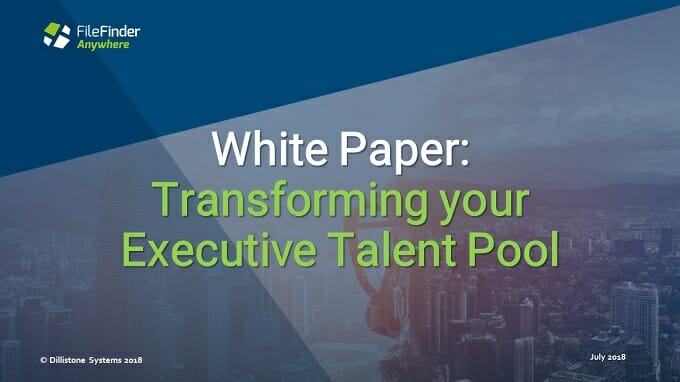 Get our free White Paper
Transforming your Executive Talent Pool
It is often said that 'an executive search firm's database is only as good as the data it holds'. So, why do so many Executive Search firms review technology platforms without considering the core challenge – the value of the data it will store? Putting low-value data in a new container does not change the fact that it remains poor quality data. This White Paper seeks to look at the quality of data stored by Executive Search firms and asks how it might be transformed alongside a platform migration.
Introducing GatedTalent – Where Executive Recruiters find Senior-level Executives
Since October 2017, 200+ Executive Search firms from 30+ countries and senior-level Executives from more than 90 countries have signed up to GatedTalent – the new, private platform that allows recruiters to connect and engage with Executives. Join us in this session to learn how the platform works from a recruiter perspective – and why GatedTalent has become probably the fastest growing Executive Search technology in history!
What our clients say
"Given the upcoming changes to data protection regulations – and our focus on ensuring our candidates and clients the security of their personal data, we trust that we have chosen the most suitable search software provider. GatedTalent brings added value to FileFinder and us, their clients, providing a solution that streamlines the compliance process with GDPR regulations. I strongly recommend FileFinder Anywhere and GatedTalent to any other executive search firm."
Ana Ber, Dr. Pendl & Dr. Piswanger Romania
"GatedTalent was a natural and convenient choice to help me achieve GDPR compliancy. It's very easy to send consent messages to candidates with the templates provided, which are self-explanatory. GatedTalent integrates very smoothly to FileFinder Anywhere, for instance I really like that the consent processing status has been added to assignments. The Dillistone team provided lots of assistance when needed and we are now ready for the 25th May and beyond!"
Adam Richardson, AR Resourcing – Read more testimonials
Learn more: BOOK YOUR ONLINE DEMO TODAY!