The JR Cape Company (USA/Europe/Asia)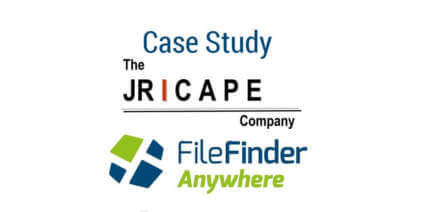 Now that I use FileFinder, the real feedback I want to provide is a profound joy and confidence that I really do have a technical support team helping me.
Walter Masnyk, Partner
The JR Cape Company
The Background:
Walter Masnyk is a Partner at The JR Cape Company. His boutique executive search business operates out of the US and Asia. Walter had worked with a well-known recruitment technology provider for a number of years, before frustration with service levels made him review alternative options.
The Challenge:
Although his business was relatively small, it was highly international. With users based in Chicago and Bangkok, it was important that data could be hosted in the Cloud, and that users could work efficiently in both locations. This meant that having a strong support service which operated "around the clock" was key. Walter commented: "With my previous supplier, I could only log support requests online. During my 6 year relationship with them, not one of my support tickets
was answered personally." The system also needed to reflect the realities of international headhunting – not least, managing information in local currencies and local character sets.
The Solution:
Walter signed up for the FileFinder SaaS solution in early December 2012. By the end of the month, he was live having received online training from Dillistone Systems' Sydney, Australia office during a visit to Thailand.
The Service:
Walter explains his first experience of Dillistone Systems' support service: "I didn't have a customer support number handy so I looked on the website and found one. When someone actually answered the phone and said they were support and would help me I was speechless. The truth was I was expecting an automated attendant to answer, and then the long string of prompts to finally get you to a support person. I'm sure your support person thought I was a bit wacky because I was so unprepared to talk to someone I started laughing at my reaction. It was truly a pleasure…but literally a shock. Of course the guy on the phone only heard someone stuttering and laughing. He figured out the problem and 15 minutes later I was good to go…. The real feedback I want to provide, though, is a profound joy and confidence that I really do have a support team helping me. Never in 6 years at (Previous Supplier) did I get this much actual support… I have now gotten enough emails following up and asking how things are going to convince me I am in good hands. Thank you."
The Return on Investment:
Walter adds: "In two weeks I am actually running my business out of FileFinder. Not 100%, but some of that is changing disciplines within myself (when you were accustomed to working around something I now need to break the habit). I am confident I can run my business out of FileFinder… that's the big difference."
To learn how FileFinder Anywhere can support your executive search business, book your free demonstration today!