Apple Mac computers are an increasingly common choice for Search firms, reflecting the growth in Apple products in the wider market. According to Gartner, 7.6% of PC shipments in 3Q 2015 were Apple Macs – up from 6.9% in 4Q 2014. Apple Macs are increasingly used in business and – even for those firms who use Windows PCs exclusively – many users will have Apple Mac computers at home.
FileFinder Anywhere Essentials works entirely through a browser and via integration with the native Mac / browser versions of Outlook (requires Office 365)
It will perform admirably on Safari, Firefox or Chrome on the Apple Mac. Email integration is provided via the Outlook Web app which will work equally well in the same environment.
Prior to the launch of FileFinder Anywhere Essentials, mainstream executive search software suppliers did not provide Mac-friendly solutions. Typically, "Parallels" or similar would be required, forcing Mac users to essentially use the Apple Mac as a PC.
Mac users are now able to enjoy the type of executive search technology previously only available to Windows based colleagues.
Access People, Company and Project data.
Parse Resumes. Search Social Media. Run Reports.
Send and Import emails. Manage Assignments and develop business.
All on a browser, all on an Apple Mac.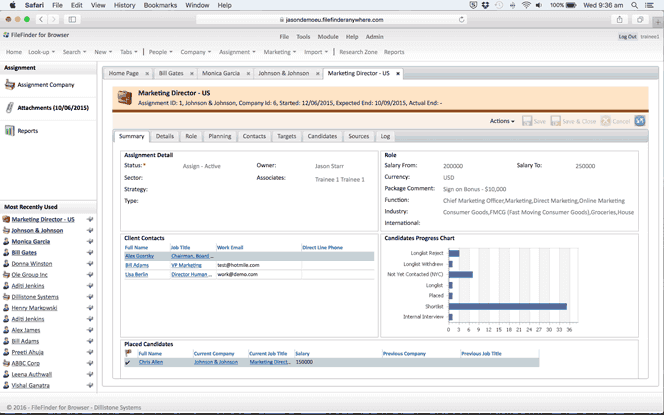 Experience the power of FileFinder Anywhere today Request a demo
FileFinder now integrates with Native Outlook on Apple Macs – check out the video below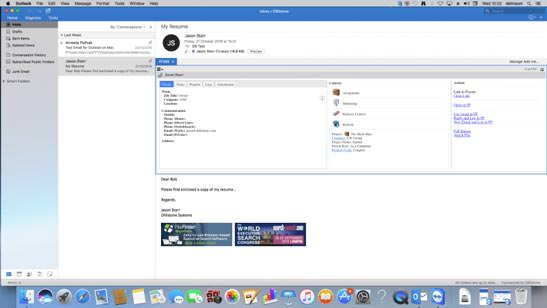 Increase collaboration and productivity by allowing your team to work anytime, anywhere Request a demo TODAY